Wienerwald Reloaded
The "Wienerwald Reloaded" Atrium Rooms at Hotel Lengbachhof are a new highlight! We went to great lengths to ensure you an even more unforgettable experience. We have redesigned our Atrium Rooms to reflect the natural beauty of the Wienerwald. We are proud to present the 'Wienerwald Reloaded' concept. Enjoy a beautiful design and natural materials. […]
The "Wienerwald Reloaded" Atrium Rooms at Hotel Lengbachhof are a new highlight!
We went to great lengths to ensure you an even more unforgettable experience. We have redesigned our Atrium Rooms to reflect the natural beauty of the Wienerwald. We are proud to present the 'Wienerwald Reloaded' concept.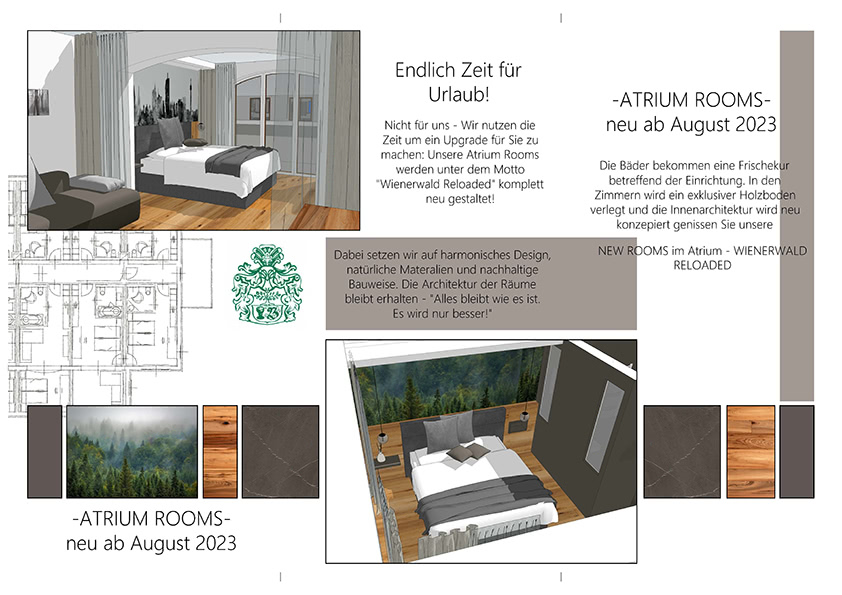 Enjoy a beautiful design and natural materials. The rooms are newly furnished and an exclusive wooden floor completes the cosy ambiance perfectly. We are committed to providing sustainable construction in order to provide something special for both you and nature.
But don't worry, the rooms' unique character hasn't changed. We strongly believe that things that are already good can be improved. And that's precisely what we did – for you!
In total, 24 new rooms await you, including three dreamy wedding suites and eight stylish junior suites.
Step inside and discover the magic of the Wienerwald in a new guise. Our team is looking forward to welcoming you!